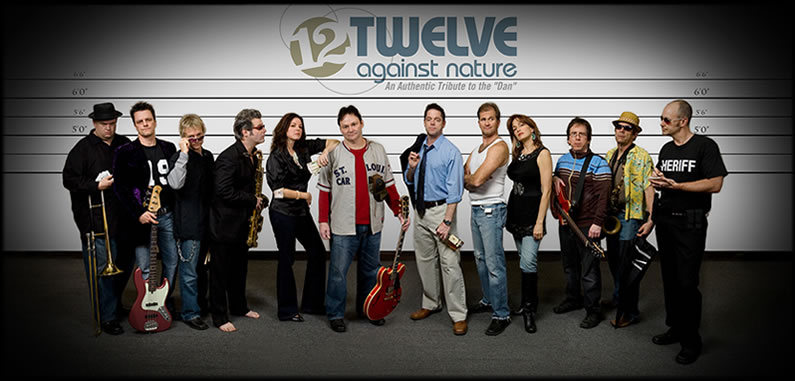 You'll be transported back to a time when music meant everything and image meant next to nothing. Twelve Against Nature brings the classic sounds of Steely Dan to the stage for an evening you'll never forget. If you're a fan of the Dan you won't leave disappointed.


BTW: Don't foget to get the T-Shirt!


"drink your big black cow and get out of here..."
Twleve Against Nature is:

Scott Sheriff - Keys, Vocals, Arranger
Gary Lunn - Bass
Chris Cottros - Guitar
Steve Ebe - Drums
Scott Kinney - Trumpet
Kim Parent - Vocals
Marcia Ramirez Waldron - Vocals
Tom Hemby - Guitar
Boh Cooper - Key's, Vocals
Roy Agee -Trombone
Randy Leago - Sax

Growing cast of special guests:

Mason Embry - Keyboards
John Elefante - Vocals
Doug Bernstein - Saxophone
Roger Bradley - Trombone
Mitch Reilly - Saxophone
Chris Rodriguez - Vocals
Chris Dunn - Trombone
Matt Nygren - Trumpet
Tim Akers - Keyboards
Tim Buppert - Vocals, Perc
Pat Bergeson - Guitar
Wild Bill Huber - Trombone
Ted Goldthorpe - Keys, Vocals
Barry Green - Trombone
Kristine Mylls - Vocals
Kye Kennedy - Guitar
Dennis Solee - Saxophone
Mark Douthit - Saxophone
Doug Moffit - Saxophone
Britt Savage - Vocals
Chris West - Sax
Ray Barnette - Vocals
Cindy Shelton - Vocals
Steve Arnold - Bass
Sam Levine - Sax
Jimmy Bowland - Sax
Jeffrey Wills - Sax
Michael Omartian - Keyboards
Jason Scheff - Vocals
Gene Miller - Guitar/Vocals
John Hinchey - Trombone
Shawn Purcell - Guitar
Jerome Kimbro - Guitar
Stephanie Hall-Wedan-Vocals
John Hammond-Drums
Mark Baldwin-Guitar
Mark Ivey-Vocals

Twelve Against Nature 2005
site design by:
Jim Long Network